Quidditch Through The Ages



Name

Quidditch Through The Ages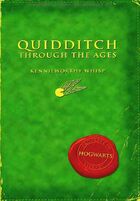 Quidditch Through The Ages is a book written by J.K. Rowling, it was released in 2001 by Comic Relief U.K. Charity.Quidditch Through The Ages was a book used in Hogwarts School Of Witchcraft And Wizarding, which was mentioned in Harry Potter And The Philosopher's Stone. Harry Potter read it when he became Seeker in his first year at Hogwarts.
The front page was meant to look like a borrowing log, it had many names of many Hogwarts Quidditch players. The name H. Granger, O. Wood, B. Dunstan M. Flint, C. Diggory, A. Johnson, E. Macmillan, T. Boot, Fawcett S. Fawcett, K. Bundy,K. Bell, C. Warrington, J. Dorny, T. Nott, S. Capper, M. Bulstrode, F. Weasley and H. Potter.
1. The Evolution of the Flying Broomstick
2. Ancient Broom Games
3. The Game from Queerditch Marsh
4. The Arrival of the Golden Snitch
5. Anti-Muggle Precautions
6. Changes in Quidditch since the Fourteenth Century
Pitch
Balls
Players
Rules
Referee
7. Quidditch Teams of Britian and Ireland
8. The Spread of Quidditch Worldwide
9. The Development of the Racing Broom
10. Quidditch Today
Ad blocker interference detected!
Wikia is a free-to-use site that makes money from advertising. We have a modified experience for viewers using ad blockers

Wikia is not accessible if you've made further modifications. Remove the custom ad blocker rule(s) and the page will load as expected.